Adobe PageMaker 7.0 Full  Version released in 2002 is one of the best desk editor programs. Designed for small businesses and professionals, it is suitable as a desktop editor. So please keep reading till the end to get useful information.
Overview of Adobe PageMaker 7.0 Full Version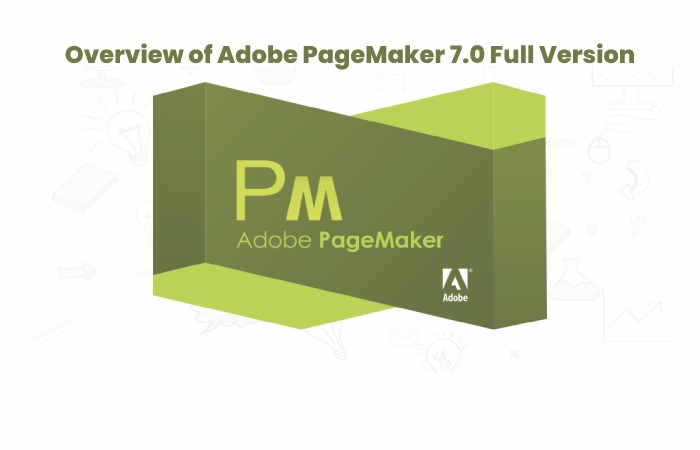 Adobe PageMaker 7.0 full version is a graphics editing program. It includes simple tools and options to organize text and images on the page. It also creates flyers advertisements and generates PDF files from documents. After the last release in 2004, development was discontinued. Also, Adobe InDesign replaced PageMaker.
Adobe PageMaker allows you to design your publications: brochures, magazines, books, etc. With this comprehensive and easy-to-use program, you have everything you need to create high-quality designs.
Intuitive tools make your job easier, whether you're a professional or a hobbyist; You have everything you need at your fingertips: rulers, grids, and of course, object creation, font management, etc. Besides, this is one of the most commonly used professional page layout software.
History of Adobe PageMaker 7.0 Full Version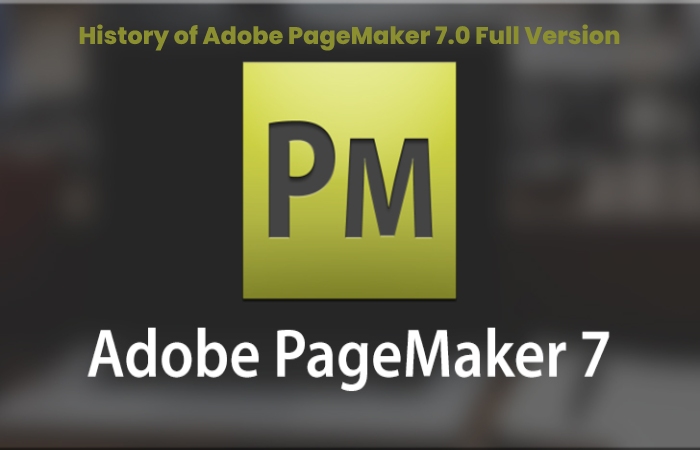 Before known as Aldus PageMaker, Adobe PageMaker is a discontinued desktop publishing computer program introduced by Aldus Corporation in 1985 on the Apple Macintosh. Moreover, the Macintosh graphical user interface, PageMaker publishing software, and the Apple LaserWriter laser printer ushered in the desktop publishing revolution. Also, PageMaker was ported to Windows PC 1.0 in 1987 and helped popularize both the Macintosh platform and the Windows environment.
A critical component that led to the success of PageMaker was native support for Adobe Systems' PostScript page description language. After Adobe bought most of Aldus's assets (including FreeHand, PressWise, PageMaker, etc.) in 1994 and subsequently dropped the Aldus name, version 6 was released. The program remained a significant force in the Aldus market. High-end DTP until the early 1990s. But new features were slow to emerge in the mid-1990s, and it faced increasing competition from QuarkXPress on the Mac and, to a lesser extent, from Ventura on the PC, and by the end of the decade, it was no longer a significant force. Quark suggested buying and cancelling the product, but instead, Adobe released its "Quark Killer", Adobe InDesign, in 1999. However, the last major version of PageMaker was produced in 2001, and InDesign licenses were offered to customers at a lower cost.
Release History of Adobe PageMaker 7.0 Full Version
Aldus Pagemaker 1.0 released for the Macintosh in July 1985 and the IBM PC in December 1986.
Aldus Pagemaker 1.2 for the Macintosh released in 1986 and added support for PostScript fonts embedded in LaserWriter Plus. PageMaker won a Codie Award in 1986 for Best New Use of a Computer. Also, in October 1986, a version of PageMaker was made available for Hewlett-Packard's HP Vectra computers. In addition, by 1987, Pagemaker was available on Digital Equipment's VAXstation computers.
Aldus Pagemaker 2.0 released in 1987. Also, it included a Windows Runtime without task-switching capabilities. Therefore, non-Windows users could run the application from MS-DOS.
Aldus Pagemaker 3.0 for the Macintosh introduced in April 1988. Also, Version 3.01 was available for OS/2 and took advantage of multithreading to improve user responsiveness.
Aldus PageMaker 4.0 for the Macintosh released in 1990 and offered new word processing capabilities, improved typographic controls, and enhanced extensive document handling capabilities.
Aldus PageMaker 5.0 released in Jan 1993.
Adobe PageMaker 6.0 released in 1995 after Adobe Systems acquired Aldus Corporation.
Adobe PageMaker 6.5 released in 1996. However, its support for versions 4.0, 5.0, 6.0, and 6.5 no longer provided. And, also Aldus' use of closed and proprietary data formats poses significant problems for users who have created works in these legacy versions.
Adobe PageMaker 7.0 Full Version was the latest version available. It released on July 9, 2001, although updates have released for both supported platforms. The Macintosh version only runs on Mac OS 9 or earlier, and it will not run on Intel-based Macs without SheepShaver. It doesn't work well on Classic, and Adobe recommends customers use an older Macintosh capable of booting Mac OS 9. The Windows version is compatible with Windows XP, but according to Adobe, "PageMaker 7.x will not install or run on Windows.
Instructions for downloading and installing Adobe PageMaker 7.0 Full Version
System Requirements to download Adobe PageMaker 7.0 Full Version
Adobe PageMaker 7.0 Full Version- You must have Microsoft Windows NT Framework 4.0 Offline Install with Service Pack 6, Windows 2000 Professional with Service Pack 2, Windows XP Professional, or Home Edition.
Required RAM: 32 MB of available RAM (48 MB minimum recommended)
Hard disk: 175 MB of available hard-disk space for installation (200 MB or more recommended)
Processor: Intel® Pentium® processor
Version: Adobe Pagemaker 7.0
Developer: Adobe Systems
Languages: Multiple languages
Available for: Microsoft Windows
Download Instructions for Adobe PageMaker 7.0 Full Version
Download PageMaker version 7.0 direct link.
Make sure you have another software installed on your system called "Winrar".
Extract the software, locate the "Setup.exe" file, and run it as administrator.
Follow the displayed instructions and fill in the registration form with the serial key (key included in the download file).
After completing all the processes, the software successfully installed on your computer.
Related Searches
[Adobe PageMaker 7.0 full version with serial key]
[Adobe PageMaker 7.0 apk]
[Adobe PageMaker 7.0 free download for windows 10]
Adobe PageMaker 7.0 full version
how to download and install adobe PageMaker 7.0 in windows 7
how to install Adobe PageMaker 7.0 in windows 10
[adobe PageMaker 7 0 full version free download with key]
[adobe pagemaker 7 0 old version]
[adobe pagemaker 7 0 full version 64 bit]
adobe pagemaker 7 0 full version free download for windows 10
[adobe pagemaker 7 0 full version crack download final]
[adobe pagemaker 7 0 apk]
adobe pagemaker 7 0 free download
Helpful Resources