Coordinate Measuring Machines is a measuring device for use in manufacturing industries. It will very useful product for manufacturing industries. because in manufacturing industries the most important is measuring. Productivity Precision and productivity are crucial for success in today's fiercely competitive industrial sector. measurement capabilities can overcome this highly competitive business.
Dimensions, lengths, and geometrical properties of physical things are measured. It can correctly determine the 3D coordinates of locations on an object's surface by probing various points with a touch probe or optical sensors.
Furthermore, an accurate and consistent measurement of the product manufactured or produced is essential. Reliability, overall quality, and customer trust are aspects greatly affected by a product's consistent measurements.
Companies seek quality assurance using Coordinate Measuring Machine (CMM) services for this reason. Although this measuring device is well-known outside the industrial community, there's still plenty to discover more here.
What Is A Coordinate Measuring Machine (CMM)?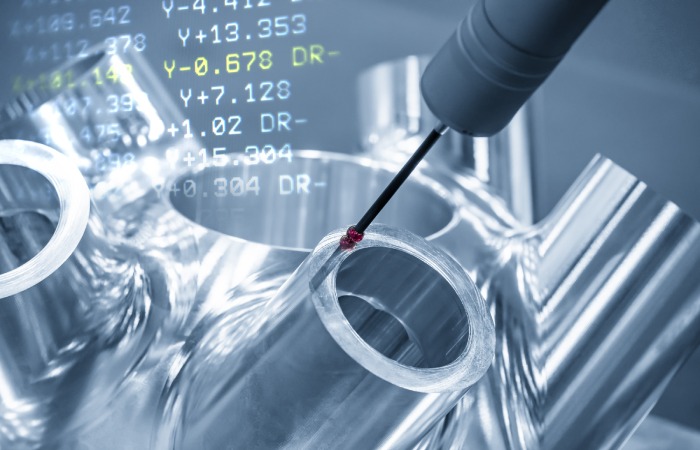 A coordinate measuring machine (CMM) is a device that uses a probe to detect discrete points on a physical object's surface and measure its geometry. This process makes use of a probe positioned on the machine's third movable pivot used to characterize the dimensions of an item being measured. Thanks to the latest technological advancements, CMM can measure dimensions accurately and consistently.
What Are Probes?
The probe is the component of the measuring equipment that extracts the necessary information from the item. It's attached to the CMM and may be controlled manually or using computer software dedicated to the machine. The measurements are determined by a probe connected to the machine's third pivot.
Here are the common types of probes:
The most frequent form of CMM probe is touch-trigger probes, often known as discrete point probes. They physically contact the workpiece's surface, as their name implies. These CMM probes signal the CMM with the coordinates of the location when they make contact.
Displacement-Measuring Probes
These are often known as scanning probes. As these CMM probes move over the surface of a target, they provide a continuous stream of data to the measuring system. Linear variable differential transformer (LVDT) or optoelectronic position sensing may be used in scanning contact probes.
Also known as non-contact probes, they work similarly to CMM probes that measure displacement. The distinction is that instead of LVDTs, proximity probes employ laser, capacitive, or video measuring technologies.
Types Of Coordinate Measurement Machines
Industry experts should think about what machine and probe would be best for their application before investing in a CMM. The way the probe is mounted and moves around the object during the measuring process distinguishes four kinds of CMMs.
The following are the four (4) types of CMMs:
Bridge CMM
Bridge CMMs are the most common form of CMM, with basic three-axis construction. There are two types of bridges: moving bridges, and fixed or non-moving bridges.
Cantilever CMM
Cantilever CMMs, like bridge CMMs, are mainly utilized for small items. They may, however, feature automated loading and unloading operations, making them perfect for retail environments. Operators may reach the component from three sides of the CMM, which is more convenient than a bridge CMM.
Gantry CMM
Gantry CMMs are suited for handling large and heavy goods since they are often fixed directly to the floor. The measurement range may be as large as 4m x 10m x 3m (XYZ) with customized gantry CMMs. This CMM benefits from putting things onto the floor and measuring without needing to be lifted.
Horizontal Arms CMM
Horizontal arm CMMs are distinguished from the other three CMMs because their probes are mounted to horizontal arms fastened to vertical columns. They come in two basic configurations: plate-mounted and two-runaway mounted.
These machines help measure thin components or to reach things. These aren't as precise as other kinds of CMMs (performing to 30 m or higher tolerances).
How Coordinate Measuring Machines Work?
There are three symmetrical axes (X, Y, and Z) function in a 3D structured framework on all CMMs. Every axis has a scale that shows the location or area of the framework in space.
The devices read data from a detecting device designed by an operator or computer numerical control (CNC).
They then use the data gathered as their reference for quality checking, adjustments, and improvements.
Calibration of CMMs
CMMs must be routinely examined and calibrated to produce exact measurements. Calibration involves changing the program to provide tighter, more precise outcomes.
Manufacturers and installers calibrate CMMs using ISO 10360 methods. This procedure entails calibrating software against a predefined target item (an artifact). A CMM is used to measure an artifact such as a ball and cone or a swift-check gauge. The CMM must correctly calculate the item's measurements within its tolerances. The technician then corrects any flaws.
They may also calibrate using a laser interferometer for more demanding applications. More accurate recalibration needs more time and an expert technician.
Benefits of CMMs
Any manufacturing process should have CMM machines. Its immense benefits surpass its restrictions. Regardless, we'll cover both here.
Here are some benefits of using a CMM:
The CMM machine can measure the dimensions of increasingly complex instruments accurately. They save money and time.
The CMM is the most reliable means of measuring machine components. It may also reverse engineer your part and do dimensional analysis.
Versatility Of The Machine
Coordinate measuring machines can handle several tools and parts. No matter how complex the item, the CMM can measure it.
A pc-driven machine (CMM) reduces human participation. Therefore, the equipment reduces operational errors and costs.
In a Nutshell
Coordinate Measuring Machines (CMM) is an integral part of many companies, especially manufacturing in nature. Precise and consistent measurements are guaranteed. In addition, there are different types of CMMs available to accommodate various product types, company needs, and preferences. Investing in CMMs is a wise decision to improve the quantity, quality, and reliability, thus increasing customer satisfaction.