First things first: You should never ride an all-terrain vehicle (ATV) without a helmet. However, wearing a damaged or incompatible helmet can be just as risky as not wearing one at all.  The helmet will only protect your head if it fits and is still in good condition.
The helmet is there to do more than just shield your head. It is also a vital tool for communication. You can use your helmet for off-road communication to connect wirelessly with your fellow riders.
We all know that ATV helmets get hit with more than their fair share of wear and tear. Muddy and dirty trails will do a number on just about anything you're wearing, including your helmet.
So, how do you identify if it's time to replace your riding safety gear? Here are the signs:
1. The Helmet Is Cracked or Bent
Most helmets are made of Kevlar, polyethylene or carbon fiber, all durable materials that will cushion the blow of impact in a collision. But these materials aren't indestructible.
They will crack or dent when they collide with another hard object. The helmet shouldn't crack unless it's involved in an accident, but you could also crack the shell by dropping it from too high a distance.
Check the inner and outer lining for any cracks or weak spots before riding.
2. It No Longer Fits
Some helmets lose their shape and fit over time, so don't be surprised if your helmet doesn't wrap around your head like it used to. The materials may contract or expand in extreme temperatures.
The adjustable strap that tightens the helmet can also become frayed or loose with age.
Many helmets are one-size-fits-all, but you can always upgrade to a larger or smaller helmet if necessary.
Make sure the helmet is securely attached to the top of your head before riding. It shouldn't fall off or slide when you bend over or lean to the side.
The strap should stay in the same position without adding slack.
3. It Makes It Uncomfortable to Ride
Nothing takes the fun out of riding an ATV like an uncomfortable helmet. The gear should make your ride more enjoyable by cushioning the top and sides of your head.
Your ears shouldn't feel squished and your head should be flush against the padded surface. Watch out for worn spots or hard edges that irritate the skin.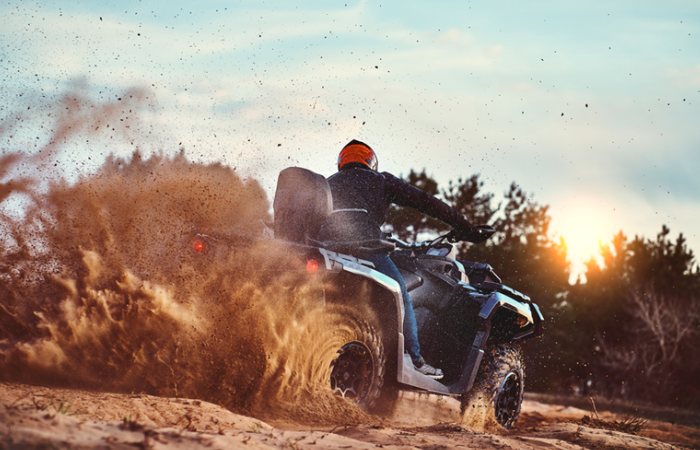 4. The Expiration Date Has Passed
Most helmets don't come with a set expiration date, but they tend to last anywhere from five to seven years.
If your helmet is coming up on its seventh birthday, it might be time to swap it out. The rule is not an absolute.
The level of tear and wear depends on how often you use the helmet. If you rarely ride and are adamant about cleaning the helmet after every run, it may last even longer.
Storing it in the proper location will also help extend the lifespan of the helmet. Treat your equipment with care to make it last the test of time.
5. It Was Involved in an Accident
Once the helmet has been involved in an accident or exposed to serious impact, it should be replaced even if it appears intact.
There could be structural damage inside the helmet that will make it less effective in future accidents. Put the damaged helmet off to the side or recycle it to ensure it stays off the road.
6. The Padding Is Worn
The padding inside the helmet is one of the most important features.
It not only makes your ride more comfortable but is also designed to help absorb the impact of the collision so it doesn't go to your head.
The padding is usually made of foam that's applied to the inside of the helmet with an adhesive. The padding itself will start to fray with age and the adhesive lining will break down with sweat.
Consider replacing the padding if the outer shell is still usable.
7. You're Using the Wrong Helmet
ATV helmets aren't the same as motorcycle helmets. The former comes with additional protection from the elements while motorcycle helmets are designed for less aggressive riding.
A motorcycle helmet should be enough to keep you safe on quiet, scenic trails.
But if you are using a motorcycle helmet and plan to do some serious racing or off-road exploring, it's time to upgrade to a full-face ATV helmet.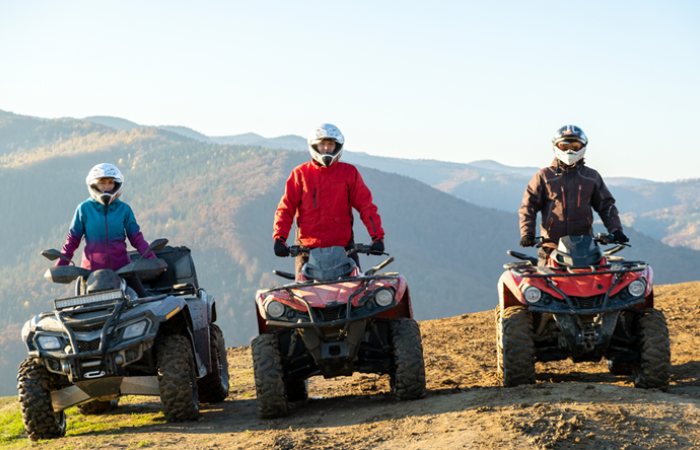 Get in the habit of inspecting all aspects of the helmet before and after you ride. If the helmet is damaged, you can order a replacement right away so you don't miss the next big race.
Regardless of whether you decide to replace your ATV helmet, make sure your helmet communication device is still compatible to sync up with your pals on the trail. Riding is always more enjoyable in a group!