VAPT Certifications: Cybersecurity is the practice of protecting computers and networks from any threat that causes theft, damage, or disruption to their functioning or data. Cybercrime is on a rise all over the world leading to a massive need for cybersecurity professionals. EC-Council, short for the International Council of Electronic Commerce Consultants is one of the most coveted professional organizations, that certifies people in multiple cybersecurity skills. Below are listed three of the most popular VAPT (Vulnerability Assessment and Penetration Testing) cybersecurity certifications by EC-Council that students and professionals can opt for to kickstart or advance their career in the information security world.
What is the VAPT Track?
Vulnerability Assessment and Penetration Testing track are used to describe the branch of cybersecurity that deals with identifying and addressing vulnerabilities in a system. It is an extremely important technique to protect computers, software, and networks as it uses an offensive approach i.e. attacking the system to find bugs in order to fix them before a hacker discovers them and misuses them for malicious benefits.
1. Certified Network Defender
The Certified Network Defender, also known as CND, is a popular certification for those interested to build a career in network defense. The certificate course offers you opportunities to work as a network security administrator, network defense analyst, network architects, systems operator, and more.
How to get the certification: You will have to pass the CND exam to obtain the certification. The exam is 4 hours long and will require a 60% to 85% scoring criterion to clear it.
Salary: PayScale describes the salary of a network security engineer as USD 85,555 on an average and that of a Network Defender Architect as USD 91,000.
2. Certified Ethical Hacker
The CEH course needs no introduction. This certification has garnered huge attention and recognition in the cybersecurity world. It has now become an industry standard for ethical hacking certifications. White hat hackers are in huge demand all over the globe, and every industry needs them to thwart cyber attacks. After obtaining this credential, you can work as a vulnerability analyst, Information Security specialist, ethical hacker, and more.
How to get the certification: You will have to pass the 4 hour-long exams to obtain the certification. The scoring criterion is the same as the CND. If you also clear the Certified Ethical Hacker (Practical) exam, then you will obtain the CEH(Master) certification.
Salary: This is one of the highest-paid IT certifications. Certified Ethical Hackers earn as much as $106,375 according to surveys.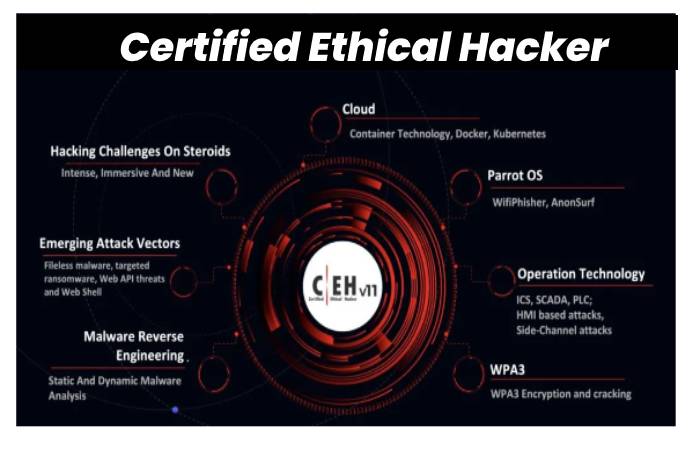 3. Certified Penetration Testing Professional
One of the latest launched certifications by EC-Council is the CPENT certification. For those who are seeking to establish themselves in the ethical hacking industry, this certification is a must-have. The CPENT exam is a hard and rigorous exam that puts your hacking skills to a solid test. This revered badge can get you job roles like penetration tester, information system security engineer, security analyst, and more. This certification is mostly pursued by those who have completed their ethical hacking training and are trying to strengthen their skill as a penetration tester.
How to get the certification: To get CPENT certified, students need to clear a 24-hour exam that they can choose to attempt in one go or two parts of 12 hours each. Scoring more than 70% will earn you the CPENT certification, whereas scoring higher than 90% will get you the prestigious LPT (Master) certification.
Salary: According to the Bureau of Labor Statistics (BLS), the average salary of a penetration tester is USD 95,510. Payscale.com says their salary can go up to USD 134,000.